ARTS - WABE where ATL meets NPR 
Beethoven Meets Bluegrass In Genre-Bending Concert At Emory 
ADRON MCCANN • SEP 24, 2021 
Unlikely, yet surprisingly compatible bedfellows, the musical universes of bluegrass and classical collide this weekend in the unique concert experience Beethoven and Bluegrass, presented by the Emory Chamber Music Society. At Emory's Schwartz Center, the Chamber Music Society's Vega String Quartet will perform Beethoven's works alongside a program of original music by virtuoso fiddler Mark O'Connor. The genre-bending composer and fiddle player joined "City Lights" host Lois Reitzes along with Emory Chamber Music Society Ensemble director Will Ransom to talk about how they each came to love this special blend of styles, and what to expect at this weekend's concert. 
Ensemble Director Ransom had nothing but the highest praise for O'Connor's music, saying, "I think of Mark as the bluegrass equivalent of George Gershwin, who was the perfect synthesis of jazz or popular music and classical… Mark's doing the same kind of thing, with this extraordinary, truly American music of bluegrass, and taking it places it's never gone before in the most wonderful ways." 
"I'm loving the idea that my music gets to be paired with Beethoven because Beethoven is one of my favorite composers and an inspiration for my own string quartet compositions," said O'Connor. He described how, like Beethoven's, his own compositions often develop recurring intervals or rhythmic motifs, creating dynamic journeys – in O'Connor's case, leaning into the highly lyrical "blue note" expressions of bluegrass music. 
"The other thing I was testing, and the string quartets really finalize this idea, is that no matter what I've written or played, people will always find a connection to Americana," said O'Connor. "I really enjoy pushing the envelope to see how contemporary my compositions can get, but always [with] that really sturdy thread that runs through the music into fiddling, and American fiddling in particular." 
Indeed, the passages of strong classical harmony O'Connor composes rove their way into more contemporary, adventurous sounds, always flirting with the special swings and lilts of Appalachian folk melody. "My second quartet and also my third quartet uses a hoe-down as a finale, and I'm thinking about a hoe-down as the ultimate, centuries-old celebration that comes at the end of a hard day of work and labor in the fields," said O'Connor. 
Mark's wife Maggie O'Connor will perform in this weekend's concert as well, an established and virtuosic fiddler in her own right. "We just love playing together," said O'Connor. "It's just amazing what we bring out in one another, and it is a very, very beautiful, comfortable and musical artistic collaboration…. In many ways I'm able to do in this duo setting with Maggie what I've always really enjoyed about being a soloist – is that I feel unencumbered, and I'm not closed into a particular direction, or style, or even instrument." 
"The single most exciting, absolutely thrilling concert I've ever heard in my life was Mark and his family band out in Juno, Alaska a couple of years ago… That evening still rings in my head," said Ransom. "Just the extraordinary music-making and the extraordinary virtuosity at the same time, and the pure joy and love of music, and of giving that music to the audience that I felt that night – I'm just so psyched about this concert." 
Beethoven and Bluegrass will be performed this Saturday, Sept. 25 at Emory University's Schwartz Performing Arts Center. The event is free with registration and sold out. O'Connor is offering a free Master Class at 4 p.m. on Sept. 24 as well. Listen to interview on radio.
Beethoven meets Bluegrass: Mark O'Connor Duo and the Vega Quartet 
Mark Gresham | 28 SEP 2021 
On Saturday evening, the Emory Chamber Music Society of Atlanta presented its first Emerson Evening Series concert of the season to a sold-out, socially distanced, and masked audience at the Schwartz Center for Performing Arts' Emerson Concert Hall. 
ECMSA artistic director William Ransom conceived this series opener to pair performers and concert material from different genres, in this case, classical and bluegrass. The Mark O'Connor Duo (violinists Mark O'Connor and Maggie O'Connor) and the resident Vega String Quartet shared the program, which paired a Beethoven string quartet with an array of compositions and arrangements by O'Connor. 
The chemistry between the players was immediately evident in the opening work, Beethoven's String Quartet, Op. 95. It was remarkable, as if the ensemble had suddenly discovered a new vitality in its playing. 
The Vega Quartet then poured their hearts into two movements from Mark O'Connor's own String Quartet No. 2 ("Bluegrass"): a bustling, energetic second movement and a slow, more bluesy third movement, which concluded the first half of the concert and had almost everyone on their feet. Later in a Facebook post, the composer himself called it an "emotionally impactful performance of my music that was quite soul-stirring." 
Mark O'Connor began the second set solo, with two originals, "Call of the Mockingbird" and "Anniversary Blues," followed by an improvisation. He then switched to guitar to play his superbly embellished arrangement of the famous "Goin' Home" theme from Antonin Dvořák's Symphony No. 9 ("New World"). 
Maggie O'Connor then joined Mark in performing a six-pack of mostly original duos: "Emily's Reel," "Jerusalem Ridge" (Monroe/Baker, arr. O'Connor), "F.C.'s Jig," "Butterfly's Day Out" — in which Mark played mandolin — returning to violin duo for "Strings and Threads Suite." 
he Vega String Quartet then returned to the stage to join the O'Connors in performing Mark's "Appalachia Waltz" as the finale. At its end, a long tender silence hung in the air, perhaps 10 seconds, before the audience erupted in an enthusiastic standing ovation. 
For the O'Connors, especially, it was an emotional night of shared music-making. The concert was their second live public performance after coming out of pandemic lockdown, following their appearance at the Fisher Center for the Performing Arts on the campus of Belmont University in Nashville, Tennessee, earlier this month.  Link to review.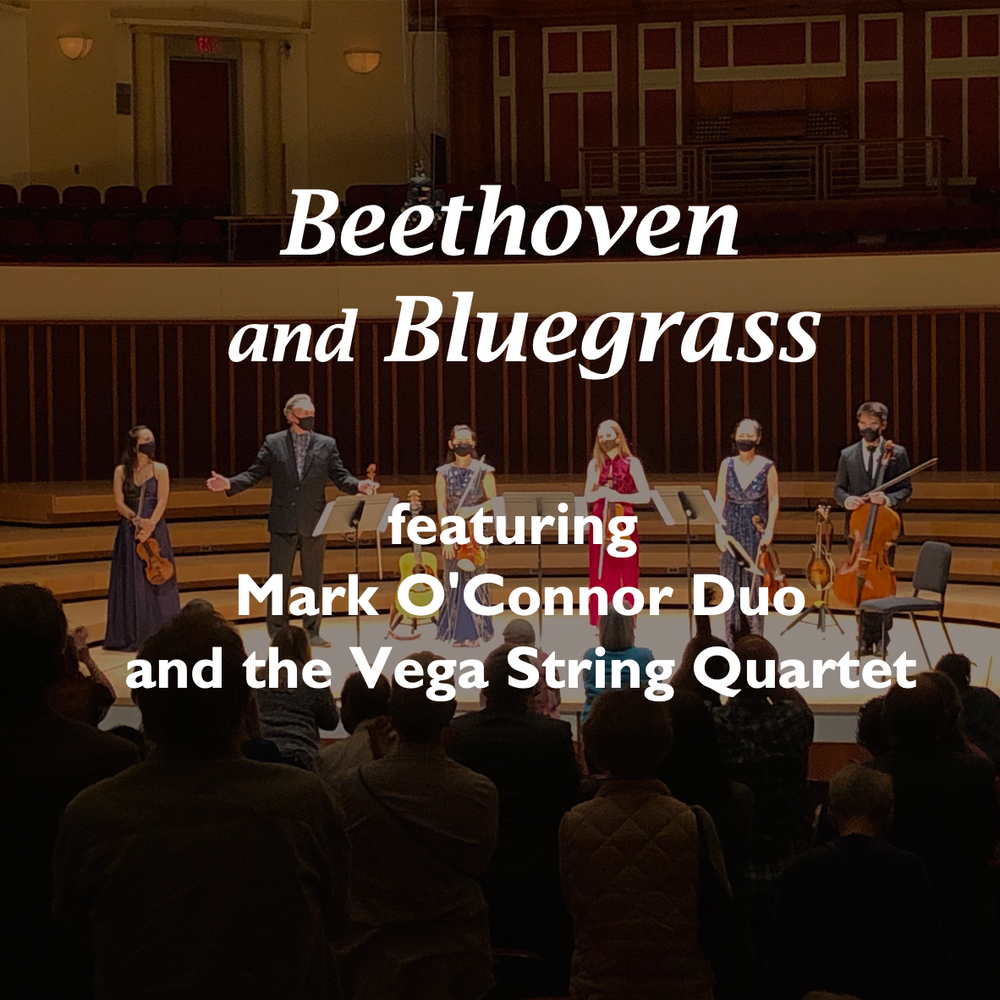 Beethoven and Bluegrass
featuring Mark O'Connor
SKYLINE MYRIAD ARTISTS AGENCY
Bookings for
"Mark and Maggie O'Connor"
"Mark O'Connor's An Appalachian Christmas"
Symphony Orchestra Performances
ANDREA SABATA (Director of Performing Arts) 919-967-8655 - andrea@myriadartists.com
LAUREN STOVALL (Agent Assistant) 919-967-8655 - lauren@myriadartists.com
LIZ MCGILL (Agent Assistant) 919-967-8655 - liz@myriadartists.com
Mark and Maggie O'Connor Agency Page